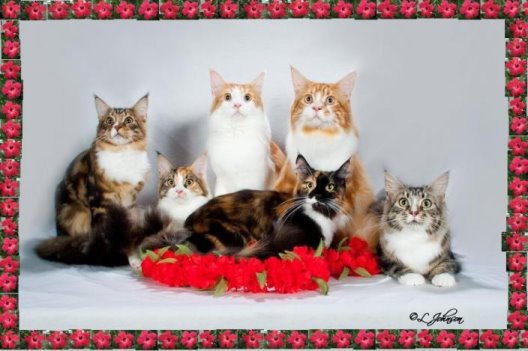 We are located in Virginia Beach, VA.
Phone 757-495-6222.
Important! New Waiting List Policy!
Due to the overwhelming number of requests our cattery has received, and a desire to ensure that families that are really interested in a Makanacoon kitten are prioritized, we have changed our waiting list policy. To ensure that we are no longer wasting your and our time, we have started taking a $200.00 non-refundable deposit to be placed on a new waiting list. This $200.00 non-refundable deposit will go toward the final payment on your kitten when it leaves to go to its new home at 12 weeks of age. This will help us to weed out families who are not serious about getting a kitten, and reduce the time spent in going through 100s of inquiries. Once a deposit has been made, we will add each family to the waiting list in the order in which we receive deposits. We post pictures on our Kittens Page on our website about 1 to 2 weeks after a litter has been born, so that you can see the colors and sex of the litter. As the color or gender that you want becomes available, we will notify you by email in the order that we received deposits. Each family has 48 hours to let us know that you want a particular kitten or want to pass, and allow us to notify the next family on our list. We feel that this system is more organized, and will give you the security of knowing that you will be notified as soon as kittens become available.
So the new system is as follows:
A $200.00 non-refundable deposit is needed to put you on a waiting list. The $200.00 will be deducted from the final payment on the kitten when it leaves for its new home at 12 weeks. Please email Pat at makanacoon1@gmail.com for details for submitting the deposit. If you have preferences for sex, color, etc., please include that information in your email.
Once the kitten has had its vet check and first distemper shot at around 8 weeks, and our vet says the kitten is healthy and its heart sounds good, we can send out the contract on the kitten, and ask for a deposit back of half the asking amount of the kitten. So for example: If a Kitten is $1300.00. The amount of the deposit at 8 weeks following the vet check would be $650.00 (the same as my current policy). The balance of $650.00 minus the $200.00 deposit (to get on the wait list) would be $ 450.00 due when the kitten is picked up at 12 weeks of age.
I hope that this will eliminate the confusion in placing kittens. If any of you have any input you would like to share with me, please send me a private email at: makanacoon1@gmail.com.
What's new on the Makanacoon Web Site:
Here are some pages on our web site with recent updates:
There's a book available written by a friend of ours, Richard Dodge. It's the only book every written that tells the story of a Maine Coon cat through the cat's own eyes. And the cat is a Makanacoon Maine Coon, Makanacoon's Noreaster - Leif!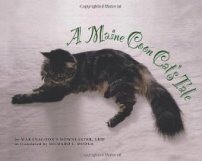 Click here to see the book on Amazon
The book is beautifully illustrated. Please help me support Richard. Tell your friends about this book!
Here is a picture of Richard Dodge taken in October of 2013 when he picked up his new baby Maine Coon who he named Cameo Sony. Sadly, Richard's Maine Coon Leif passed away shortly after his book was published on Amazon.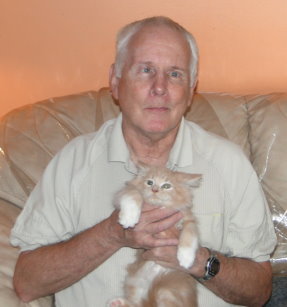 Before considering purchasing a Makanacoon Kitten, please take the time to read the information, including our CONTRACT AND FAQ SHEET, found here on our Kitten page to answer questions you may have about purchasing one of our kittens.
We are members of
We test our breeding cats for HCM (with Board Certified Cardiologists using a Color Doppler),
DNA test for the MyBPC-3 mutation, and SMA test when needed.

Web Site Visit Count:
love message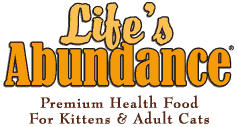 Makanacoon Maine Coon Cattery feeds and recommends Life's Abundance Premium Health Food for Kittens and Adult Cats. It is made with high quality ingredients and does not contain any corn or wheat products or artificial flavors or colors.
Click here for more information.

* All photos are the property of Pat Taylor & Makanacoon Cattery *